Open-Source Digital Investigations
An "open-source" is any digital material that is publicly accessible, including user-generated content, geo-spatial evidence from maps and satellites, media resources, databases and archived materials.
Open-source investigation is the gathering, verification and analysis of digital materials and is the emerging vanguard of human rights accountability.
A Cutting Edge Course
Human Rights and War Crimes: Digital Open-Source Investigations
Designed to prepare students for cutting-edge work, this seminar introduces the concepts and practices underlying digital open-source investigations. From legal requirements to practical skills, the purpose and history of these investigations, ethical considerations, identifying trauma responses when investigating atrocity crimes, and the history of open-source investigations in human rights organizations and international courts, students gain valuable skills for any legal career.
Learn More
"I'm so excited to introduce these innovative techniques to our UCLA Law community. From ascertaining the time and place of images taken nearly anywhere around the world, to determining instances of disinformation (and more), OSINT methods are something of a revolution in evidence collection.

"They are increasingly invaluable when investigating human rights violations and we are preparing our students to hit the ground running in this important work."
Assistant Director, Jess Peake
Our Latest Report
Downloadable PDF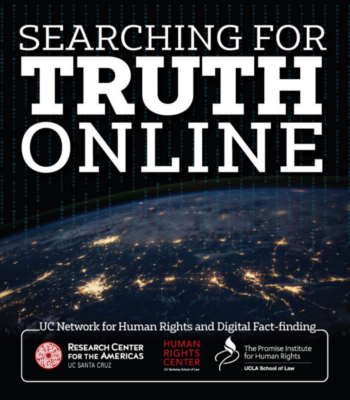 A Leading Partnership
We are proud to partner with the Human Rights Center at UC Berkeley and the Research Center for the Americas at UC Santa Cruz to create the UC Network for Human Rights and Digital Fact-finding.
Together, we are building the foremost interdisciplinary training network for students to learn cutting-edge open-source investigation research techniques.
Training includes:
How to Think Like an Open-Source Investigator
How to Plan an Investigation
Advanced Methodologies
Geolocation & Chronolocation
Legal and Ethical Considerations Specific to this Type of Research
"OSINT training has allowed me to harness new digital research skills and opened my eyes to the myriad ways I can utilize the Internet to serve as a stronger legal advocate for clients. It is an invaluable course that will stay with me beyond law school as I dive into my legal career."
Aya Dardari '22